LUXURY, TRADITIONAL &
BEACHFRONT
Madinat Jumeirah Residential Community is a prestigious and sought-after living destination within the larger Madinat Jumeirah complex in Dubai, UAE. It is celebrated for its exquisite design, unparalleled amenities, and breathtaking Arabian Gulf vistas. This exclusive development offers a range of upscale residential and commercial properties, including beachfront villas, townhouses, offices, and retail spaces.
With its emphasis on exclusivity, sophistication, and convenience, this provides an unmatched living and working experience. The properties within the complex are meticulously crafted to cater to the needs of discerning individuals seeking a high-end lifestyle. From spacious layouts to cutting-edge appliances and premium finishes, each residence exudes luxury and elegance. The commercial spaces, including offices and retail units, offer businesses a prestigious address and access to a wide range of amenities.
In addition to its exceptional properties, the community boasts an array of leisure facilities that enhance the overall experience. Residents and visitors can enjoy spas, fitness centers, swimming pools, and beach clubs, providing ample opportunities for relaxation and entertainment. With remarkable architecture, exceptional amenities, and an enviable location, it is truly a premier destination that epitomizes luxury living in Dubai.
New Launch at Madinat jumeirah Living
We are pleased to announce the launch of exclusive collection of luxury Residences next to the Burj Al Arab in Madinat Jumeirah Living. This meticulously designed development redefines modern living, offering a seamless blend of luxury and comfort. The project boasts an impressive array of amenities, including state-of-the-art fitness facilities, lush green spaces, and a vibrant community center. With its contemporary architecture and thoughtfully crafted interiors, every detail of this project exudes elegance and sophistication.

Residents will enjoy spacious living areas, stylish finishes, and breathtaking views that create an unparalleled living experience. Conveniently located near major transportation hubs and surrounded by an abundance of shopping, dining, and entertainment options, this residential project promises a lifestyle of convenience and connectivity. Don't miss the opportunity to be a part of this exceptional community and embrace a new standard of urban living.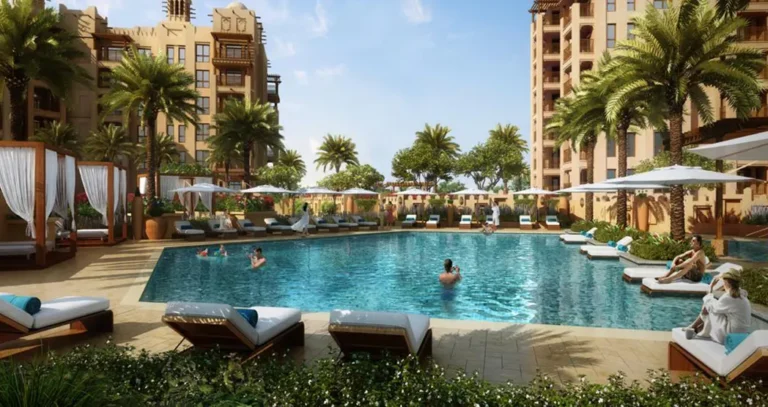 Luxurious properties: Beachfront villas, townhouses, and apartments with exquisite architecture and high-end finishes.
Breathtaking views: Arabian Gulf, Burj Al Arab, and stunning surroundings of the community
Exclusive amenities: Private beach access, swimming pools, fitness centers, and world-class spas.
Serene environment: Meticulously landscaped with manicured gardens, water features, and scenic walkways.
Convenient location: Easy access to attractions, business districts, malls, and dining destinations.
Integrated lifestyle: Part of a larger complex with Madinat Jumeirah Resort, Souk, and diverse dining and shopping options.
24/7 security: Ensuring resident safety with advanced surveillance systems.
Proximity to cultural sites: Close to Dubai Opera and Dubai Museum, providing a rich heritage and arts scene.